p { font-size: 16px; line-height: 1.4; padding: 0 0 10px; margin: 0; }
The Karen Community Expo, 2014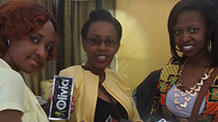 Two things come to mind at the mention of an 'expo'. The first is 'to exhibit' and the second, the fun-filled activities that take place in the company of family, friends and to some extent, strangers! Held on the 8th of November 2014, and the first of its kind, The Karen Community Expo was designed to provide a platform through which residents of Karen and its environs would interact with brands of direct interest to them.
Coming in with two most healthy oils; Olivia Extra Virgin Olive Oil and Rinsun Sunflower Oil, Kapa Oil Refineries Ltd presented a great experience that sought not only to create awareness but to enlighten the audience on healthy living. It was a hub of food and learning as the master chef took interested fans through olive oil tasting and pairing that featured a variety of different salad and mock-tail recipes.
The event, undoubtedly a success, culminated with a happy crowd excited about trying out new recipes and having learnt of the many benefits and uses of Extra Virgin Olive Oil.