5 Ways To Wear Your Favourite Kimono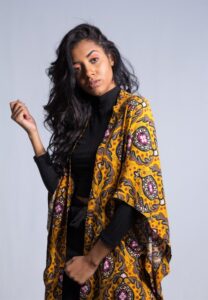 If it's both versatile and easy to style, you know it deserves to be in your closet! Not forgetting, stylish too. This robe style jacket is in, and in no way slowing down. In case you are wondering how to style it, we got you with tips on how to wear it so as to avoid monotony and always keep it fresh.
Tie it to one side, matched with a pair of denim and let your hair flow for an easy look.
Let your kimono do all the talking by pairing it with an all white or all black outfit.
It may be cold outside, but for those travelling to the coast or somewhere summery, a kimono can double up as a great cover up as well.
Take it from day to night by swapping the studs for statement earrings and the sandals for a pair of heels.
For a casual look, throw it over a pair of shorts or a romper and you're good to go out and shine.
Kimono's are a fun statement piece! If you don't already own one, we hope these style tips convinced you to get shopping for one.